Performance

Anne at Algoma Trad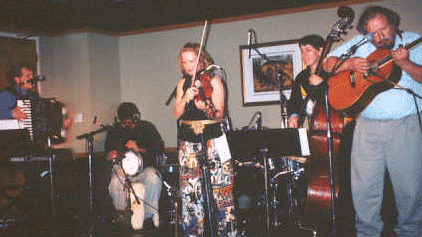 Anne with the band

Njacko and Joaquin at the Gladstone
Anne has performed at Festivals and clubs in Europe and North America, on countless theatre stages, at barn dances, fairs, in hospitals, churches, community centres, at gatherings large and gatherings small. Sometimes she is alone, sometimes with an accompanist, sometimes she leads a band. She fiddles – Irish, Scottish, French-Canadian, Metis, Klezmer, Bulgarian, sometimes a little swing. She sings old Canadian songs in English, French, Gaelic, and occasionally in Yiddish, Macedonian or Ojibwe . She has pioneered her own special brand of singing and playing fiddle simultaneously. Sometimes she plays piano, accordion, long-necked mandolin, tenor guitar, bones, jaw harp and feet.
Solo

Anne has several shows that can be done in person or online: Spirit of the Narrows (her journey into the world of Indigenous Fiddling) , Talamh an Eisc (Irish music in Canada), Hardanger 3.5 (about the world of Norwegian Fiddling on the 8-string hardanger), and Stick Tales (stories, songs and tunes, on fiddle, voice, feet, tenor guitar and more)
Portage
with Jean Hewson, Christina Smith, Laura Risk and Erynn Marshall. portagefiddle.com, Youtube: Portage Fiddle
Eh?!
New and Old Canadian music, from James Stephens, Emilyn Stam and Anne Lederman. Visit Page
Lederman/Bell
A duo with old Muddy York buddy, Ian Bell, featuring trad and original Canadian songs and tunes. Hear what 35 years of playing music together can do. www.ledermanbell.ca
Njacko Backo
Toronto's kalimba master, experience Cameroon in Canada. Njacko's web site
Anne at the Symphony
Anne made her debut in 2010 with the Stratford Symphony in a stunning new arrangement of Tamarack'er Down by Martin Van de Ven. For A world music orchestra exoerience - singing, clogging, fidlding, see where you can go.
Fiddlesong
The whole shebang: Tom Leighton (piano, accordion) Ian Bell (guitar, button accordion), sometimes bass and percussion. Songs to dare the devil, tunes to save your soul. See the Fiddlesong page
Fiddlesong Dance Band
From a duo to the full quintet, the Fiddlesong Dance
Band inspires you to jump for joy.
See the Fiddlesong page
Anne also does special shows for kids. Just follow the link

with Njacko at the Gladstone

Anne, Deb and Tom

Anne with the Stratford Symphony